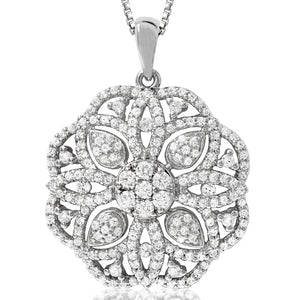 Intricate Floral Diamond Pendant
Product: Intricate Floral Diamond Pendant

Style Number: NL0315
Materials:
Gold Color Available:
2.76g 14k White Gold

3.26g 18k White Gold
Gemstones Available: 
14k: Diamonds:183: 0.90

ct

18k: Diamonds: 183: 0.89

ct
Note:

 

Please contact us thorough email or phone if these products are of interest to you, we will respond back to you as soon as possible. A quotation will be sent based on the order quantity, materials, and style number. Merchandise enlarged to show details and may not always be exactly as shown in pictures. Each gemstone is unique and color variation may vary. We encourage Retailers/B2B clients to make an appointment with us to see our products in person and discourse details. 

  
Thank you.
J Nuevo
Contact information:
info@nordlights.com
Phone: 905-477-8686